Welcome to Micronesia, a spellbinding world abounding with warm caressing breezes, captivatingly rich culture and exotic adventure all dancing around in unison under the thick golden rays of an arching tropical sun. The mysterious, the magical and the modern sides of life all lie within easy reach for the welcomed visitor, just like a swollen ripe mango dropping from a mango tree into a waiting hand.
Together with Guam, Micronesia comprises of the Commonwealth of the Northern Mariana Islands, the Republic of the Marshall Islands, the Federated States of Micronesia and Palau, with each different island chain offering a unique and unforgettable experience.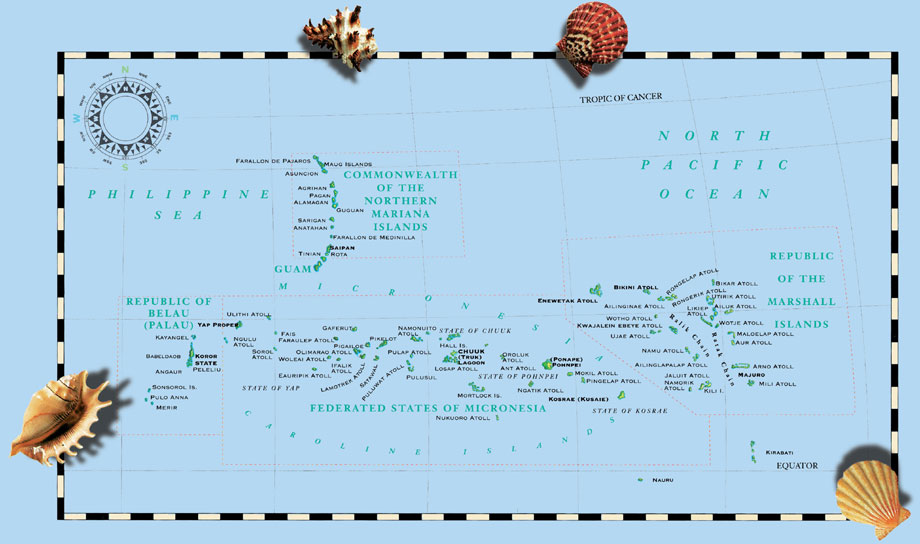 ISLANDS OF MICRONESIA
Guam, a U.S. territory, is the largest and most populous island, considered the "gateway" to Micronesia and a hub for the region.
The Commonwealth of the Northern Mariana Islands (CNMI) is a U.S. Commonwealth consisting of 14 islands just to the north of Guam, and along with Guam, forms the Mariana Islands archipelago.
The Federated States of Micronesia (FSM) and Palau are both independent island nations in a Compact of Free Association with the U.S. and together make up the nations in Caroline Islands archipelago to the south of Guam.
The Republic of the Marshall Islands is also an independent island in a Compact of Free Association with the U.S. approximately 1500 miles to the east of Guam and is comprised of many small low lying islands and atolls.
Click Here to View Destinations of Micronesia
For those of us who seek out locations where dreams long for reality, there are still a few left in the world where unspoiled landscapes, epic adventures and the romance of a secluded lagoon and forgotten beach can become reality.  Beneath expansive azure skies and seemingly infinite stretches of both turquoise and deep blue water ahead, the region of Micronesia is still one of those places.
As modern technology and communication connect the world at an ever greater pace and the once-exotic places of yesterday become increasingly rare today, it is refreshing to find hidden jewels still available for exploration, admiration, and yes, even relaxation.