Yap Living History Museum Getting New Additions
 
October 16, 2018
Colonia, Yap. The Yap Living History Museum is soon to begin construction on a new climate-controlled building that will house displays of historical artifacts, photos and other materials, and will host cultural demonstrations and lectures for the island's visitors. Located in an area adjacent to the outdoor museum's traditional community houses and sitting platform, the style of the new "Folk-Victorian" building "will hark back to the German era of Yap's history," explained Don Evans, chairman of the board of YLHM.  
The museum's park-like setting is a popular gathering spot for the island's festivals, celebrations and special events including Yap Day. In addition to the new building, lamp posts will be installed around two sides of the property to provide increased lighting for nighttime events. Pop-up canopies are also on order for use by local vendors who offer food, handicrafts and other items for sale during the events' night markets.  
"When the building is finished, we will begin a monthly Taste of Yap event to provide visitors with the opportunity to taste local food, purchase handicrafts, view cultural demonstrations like basket weaving and the traditional dances that Yap is famous for," Evans said. "Our research has shown that visitors are eager for more opportunities like this to experience and learn about Yap's unique culture." The canopies will be provided to local vendors for their use during the late afternoon and evening event. Funding for the building, lighting and canopies is provided by JEMCO and CFSM.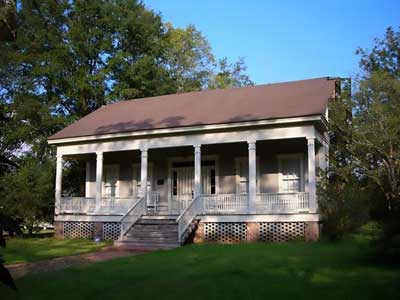 Photographic rendition of proposed new building for Yap
Living History Museum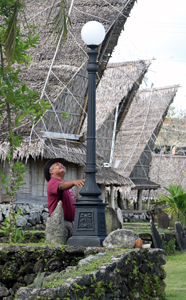 Tom Tamangmow, Project Manager, Yap Visitors Bureau,
inspects one of several new lamp posts that will be installed at
the Yap Living History Museum
PHOTO CREDIT: Joyce McClure