Colonia, Yap. The private jet set down at Yap International Airport on Friday, October 15th late in the afternoon. The 39 passengers from Germany were on a round-the-world journey that began in Dusseldorf and would take them to Canada, Alaska, Japan, Yap, Papua New Guinea, Indonesia, Malaysia and Oman. The young Yapese girls who greeted the visitors in traditional grass skirts, placed leis around their necks as a group of young singers, accompanied by a ukulele, welcomed the visitors. Phones and cameras clicked as pictures were taken of their warm welcome to the small, remote island in the western Pacific Ocean.  
Founded in 1985, Consul Weltreisen claims to be the first tour operator to carry out worldwide travel with chartered aircraft, taking travelers "to some of the most extraordinary places in the world," according to the company's director, Dieter Forsen.  Forsen has been travelling since he hiked on foot across the Sahara Desert at the age of 21. He arrived in Yap in May to check out what Yap had to offer his wealthy clients. Impressed with what he saw and experienced, Yap was added to the itinerary.
Hosted by Manta Ray Bay Resort and Yap Divers, the group began their stay Friday with a tour of the island followed by a sunset barbecue on the beach. Saturday included snorkeling and attending lectures about Yap's long history with a special emphasis on the German era by Francis Reg of the Yap Historical Preservation Office, the culture of Yap's Outer Islands by Larry Raigetal, and the island's plants and their uses by ethno-biologist Dr. Marjorie C. Falanruw of the U.S. Forest Service and a long-time resident of the island. They also enjoyed an afternoon at the Living History Museum where Martin Ruwniyol hosted cultural demonstrations that featured weaving techniques for body decoration and baskets, cooking methods, a display of food for tasting, and traditional dancing. 
"We were honored to be included in the itinerary of this never-before-offered travel experience and look forward to welcoming more of Consul Weltreisen's travelers to Yap in the future," said Bill Acker, owner of MRBR. "We always enjoy introducing visitors to Yap's culture and having the opportunity to provide an insight into Yap's unique way of life and our beautiful island. Out of all the better known islands within Micronesia, Mr. Forsen chose our little island, making this event even more special."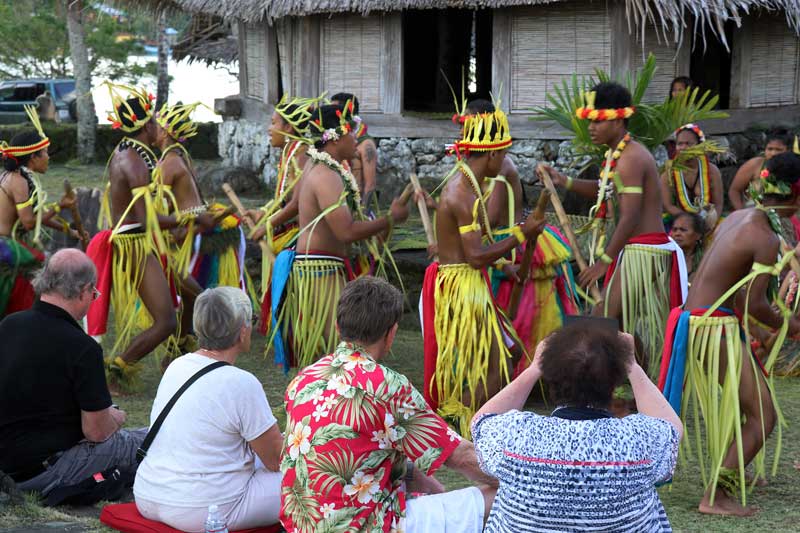 EXCLUSIVE PHOTO:
CAPTION:
German visitors to Yap watch traditional dance performance.
CREDIT: 
Joyce McClure